Ahead of Wednesday's Eldora Dirt Derby in the NASCAR Camping World Truck Series, fans and drivers have been slinging virtual dirt in preparation.
It's insane how good of a job @iracing did with the dirt racing. Never could've imagined it'd be that legit. https://t.co/MW6Om4oKhZ

— Ryan Ellis (@ryanellisracing) July 12, 2018
Sim time, getting prepped for eldora with @carolinasimworx pic.twitter.com/qnuu1hxS07

— Justin Haley (@Justin_Haley_) July 14, 2018
iRacing hopped on board to sponsor Brett Moffitt's truck for Wednesday night's race. Naturally, Moffitt hosted a few iRacing races Tuesday afternoon to get the feel of racing the truck on dirt against fans and iRacers.
Mark it down! We'll be hosting @iRacing races on Monday at 2 pm ET with @Brett_Moffitt. Hop in the trucks and let's throw some dirt at @EldoraSpeedway! pic.twitter.com/Vv8a4YK5dB

— Hattori Racing (@Hattori_Racing) July 13, 2018
We'll see if Moffitt's preparation helps him Wednesday.
.@NASCAR_Trucks on the cushion on @iRacing is BIG fun. pic.twitter.com/IJ5XVl2Kky

— Hattori Racing (@Hattori_Racing) July 16, 2018
NASCAR Xfinity Series driver Matt Tifft showed fans how to get around Kentucky Speedway on the Richard Childress Racing sim rig.
.@matt_tifft says the restarts at @KySpeedway will be much more exciting because of the repave a couple years ago. ud83dude05 Watch him discuss that further while taking a lap in our @iRacing rig at one of his favorite tracks.#NASCAR | #iRacing pic.twitter.com/n36y9zZ40v

— RCR (@RCRracing) July 12, 2018
Not sure if you're using the famous around-the-rim Kyle Larson line correctly on iRacing? Why not get validation from the man himself?
Yes that looks perfect just as long as you entered that close to it too!

— Kyle Larson (@KyleLarsonRacin) July 12, 2018
Dale Earnhardt Jr., a sim-racing pioneer, opened up Monday night about his role in iRacing's early development in a Twitter discussion with iRacing's EVP Steve Myers.
Wow, you got some memory. Hard to imagine @iracing before @NASCAR. I remember beta testing the skippy at VIR every night. https://t.co/G1ApzPtoRv

— Dale Earnhardt Jr. (@DaleJr) July 17, 2018
When you race some of the rookie and short track cars on iRacing, there's a good chance you're racing a laser-scanned copy of one of Dale Jr.'s cars.
You have no idea. Helped them create several relationships and scan many vehicles. The iRacing street stock is our car. Late Model Stock also. All the original Chevy xfinity and Cup cars were scanned at my shop. Provided lots of the early data on chassi, aero, and motor.

— Dale Earnhardt Jr. (@DaleJr) July 17, 2018
When me and my parents would visit MTJ in 06-07ish the first thing I'd do is make some laps in the skippy. TSW glory days

— Ryan Truex (@Ryan_Truex) July 17, 2018
NASCAR PEAK ANTIFREEZE IRACING SERIES UPDATE
At Chicagoland Speedway on Tuesday, Zack Novak picked up his first victory of 2018, overcoming a botched green flag pit stop entry that sent his No. 15 spinning in the early stages of the race. While it appeared Ryan Luza had the car to beat most of the night, Novak benefited from the timing of a late-race caution following a restart that kept his car ahead of Luza's.
Sonoma winner Bobby Zalenski unseated Slip Angle Motorsports teammate Ray Alfalla atop the points standings after Alfalla crashed out of the race late in the going Tuesday.
Check out the highlights from last night's @NASCAR @peakauto Antifreeze @iRacing series race from @ChicagolndSpdwy https://t.co/rrdYAQOgfp

— iRacing.com (@iRacing) July 11, 2018
The NASCAR PEAK Antifreeze iRacing Series races next at New Hampshire Motor Speedway on July 24.
IRACING PAINT SCHEMES OF THE WEEK
Remember Mark Martin's iconic 1998 race car? Justin Rowden updated it to 2018 standards on the iRacing version of the Monster Energy NASCAR Cup Series Ford Fusion.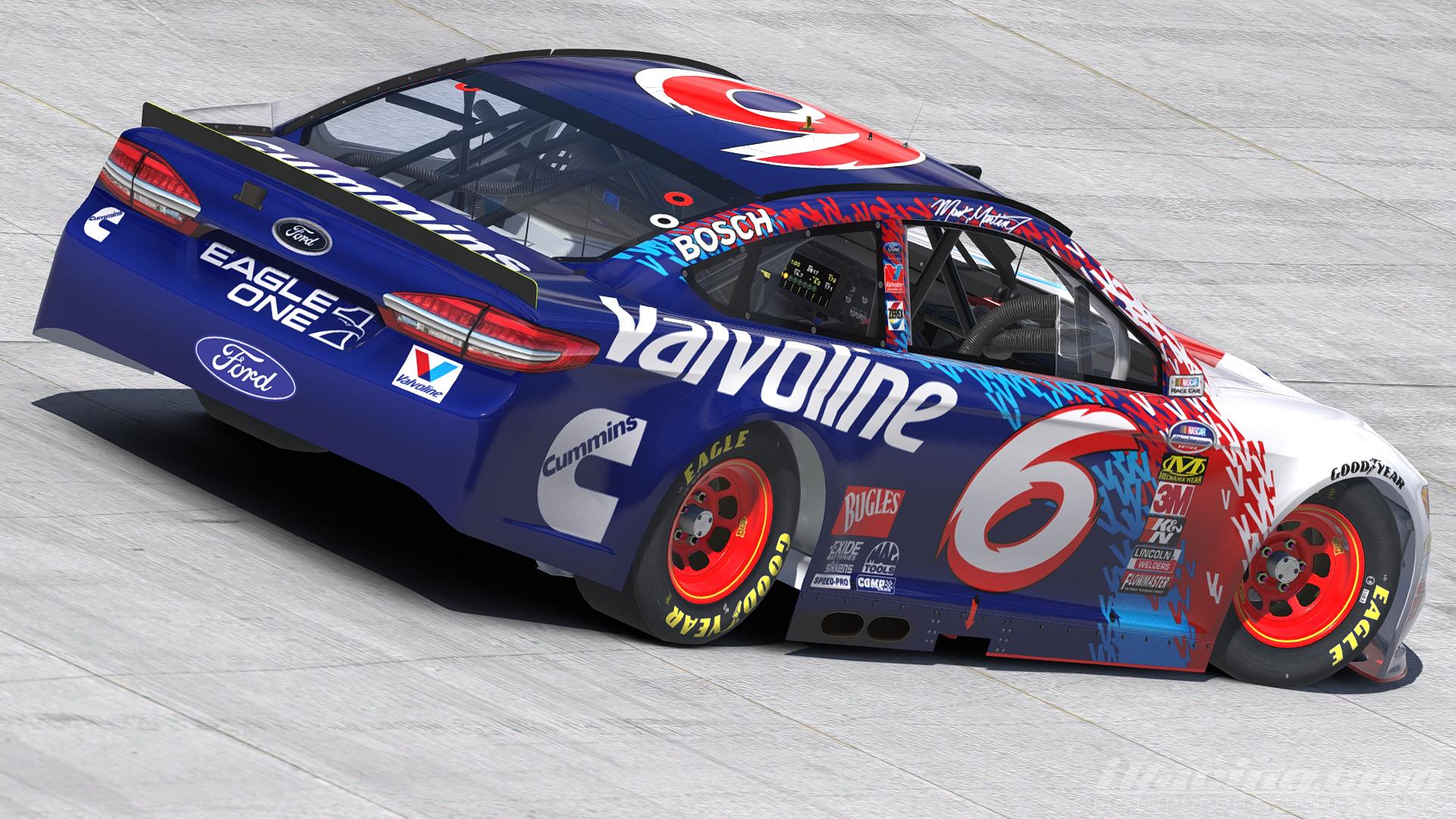 Speaking of 1998 throwbacks, Zac Campbell replicated Jeff Burton's 1998 Exide Ford on today's Ford Fusion.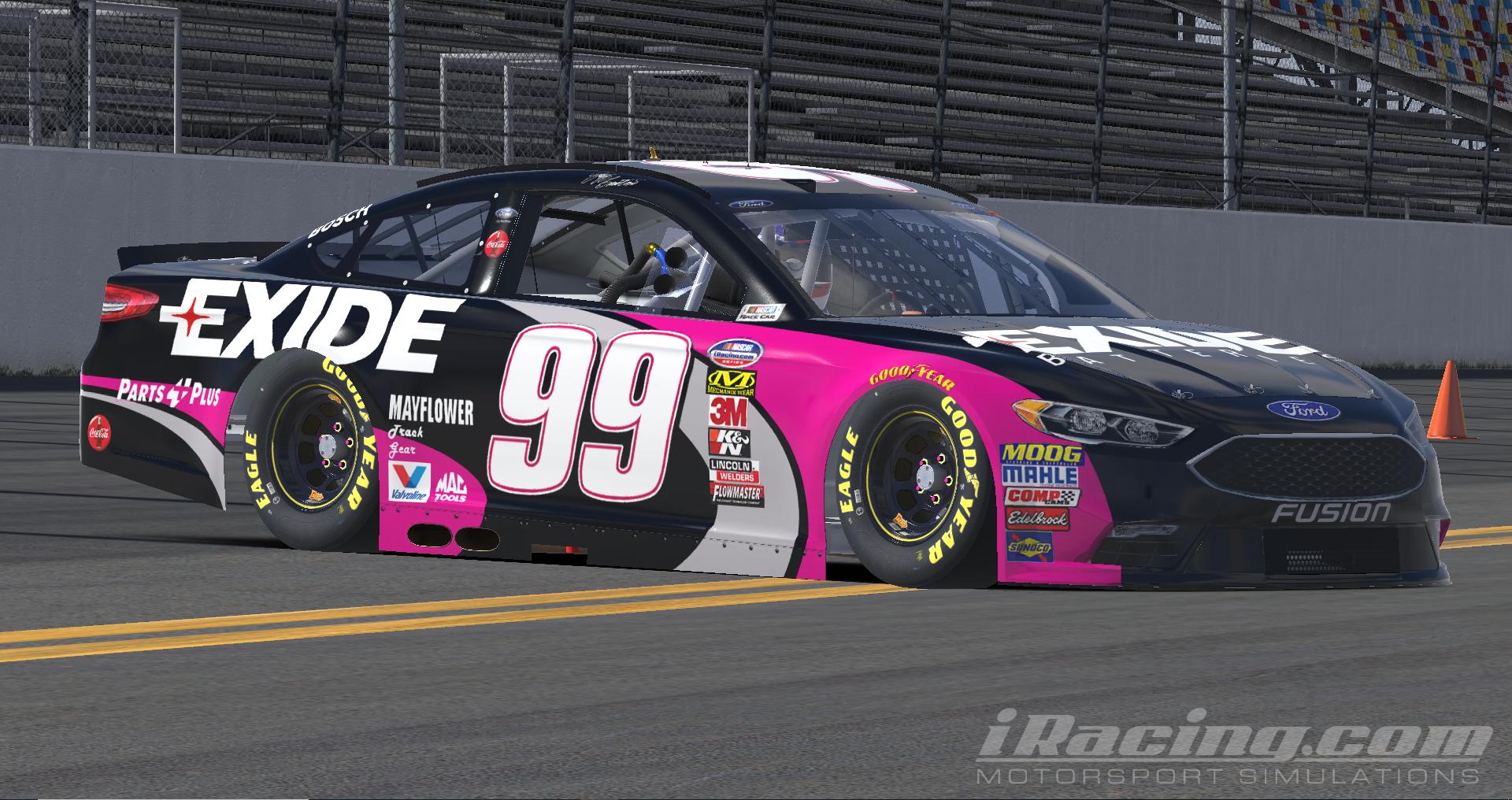 DON'T TRY THIS AT HOME
When Brett Moffitt hosted a few unofficial iRacing test sessions at Eldora Speedway on Tuesday, I decided to hop in and (pathetically) log some laps.
I fell out of the test race pretty quickly (as I do), then decided to spend the last few laps, while running in last place, trying to improve my line — and maybe stop trying to drive Eldora like a traditional asphalt oval.
That's when iRacing Race Control decided to use me as a training exercise. I mean, it made sense — this was an unofficial race with literally nothing on the line. I was seven laps down in a 30-lap race, and my truck looked like something they load onto the hauler after a brawl at Martinsville.
I received a 30-second black flag penalty, which seemed odd, but I figured I'd be a good sport and serve the penalty anyway.
Shortly after the race, the iRacing crew sent me video footage of the black flag incident from their end. I'll admit, knowing this side of the story — and considering nothing was at stake, and this was always intended as a joke — it's pretty funny.
when you've crashed out of an unofficial hosted test session so Race Control uses you as a training exercise (then sends you the video of the team laughing at your expense)

"Did he do something wrong?"
"Nah, we're just messing with him. He's already in last."

OH JUST RUB IT IN pic.twitter.com/pSLC4HzFir

— Steve Luvender (@steveluvender) July 17, 2018
Although, the "He's already in last!" part stings a little.